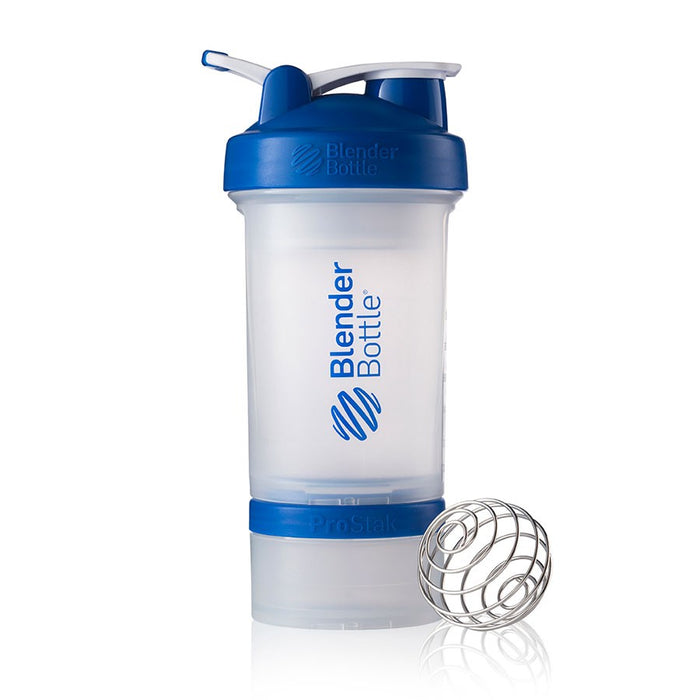 BlenderBottle ProStak 22oz.
The Ultimate All-In-One
Supplements, snacks, pills, and liquid—all in the same bottle. Featuring the BlenderBall® wire whisk and unique Twist n' Lock™ containers, the BlenderBottle® ProStak® is the all-in-one solution for the serious athlete.
Smooth Tastes Good
Say 'goodbye' to lumpy protein shakes and 'hello' to smooth, great-tasting drinks. Our patented mixing system uses the BlenderBall® wire whisk—found only in BlenderBottle® brand shaker cups—to mix even the thickest ingredients as you shake.
Clip It, Loop It, Hang It
Integrated with the StayOpen™ flip cap, the adjustable carry loop lets you hold more when your hands are full and offers a convenient place to attach keys while at the gym.
100% Leak Proof
The Prostak's screw-on lid and secure flip cap keep your gym bag and car seat dry. With a snug twist of the lid and the assuring "snap" of the flip cap, you're ready to roll.
Worry Free
Made from only the highest-quality materials, BlenderBottle® brand shaker cups are—and always have been—BPA and Phthalate free.
Twist N' Lock Technology
The ProStak's unique interlocking jars have individual lids, making it possible to carry supplements, snacks, and more—with or without the bottle.
Take It Or Leave It
With a quarter turn, the Twist n' Lock™ jars can be quickly attached or detached from the bottle.
Patent-Pending Loop Design
Surprisingly handy, the adjustable loop makes it easy to carry the bottle, even when your hands are full.
Ditch The Pill Minder
The covert pill tray locks into any jar lid, allowing you to carry pills and powders in the same jar.
Go Big
Expand the storage of your BlenderBottle® ProStak® with three additional jars and a Twist n' Lock™ pill tray. Extra 100cc and 150cc jars double the initial capacity of your system, while a large 250cc jar offers ample room for even the largest recovery shake needs.
More Product Details
22 oz capacity cup
2 Fully Independent jars for storage
Twist n' Lock™ system connects jars to cup
Pill organizer locks into jar lids to save space
Patent-pending loop
BlenderBall® wire whisk
BPA and Phthalate free
Top-rack dishwasher safe