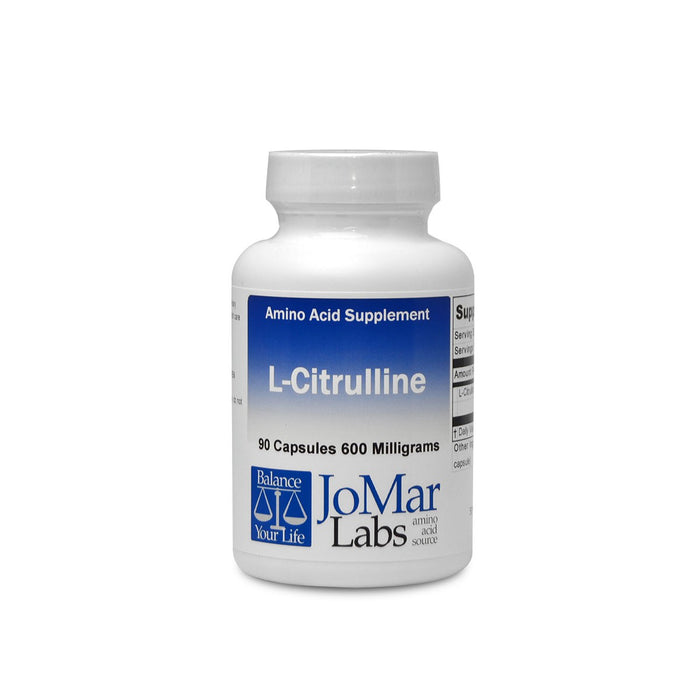 L-Citrulline
Save

Liquid error (snippets/product-badge line 32): Computation results in '-Infinity'

%
 **Urea Cycle Disorder patients please see below for information on available discounts and requirements**
Citrulline is found in high concentration in the liver and is not a component of any major proteins or enzymes, and therefore not much information is available. The amino acid Citrulline is required to detoxify the liver from ammonia, which is a waste product of the body from oxidation. Citrulline promotes energy and stimulates the immune system. This unusual amino acid is formed in the urea cycle by the addition of carbon dioxide and ammonia to L-Ornithine. It is then combined with Aspartic Acid to form Arginosuccinic Acid, which is later metabolized into the amino acid L-Arginine.
**We offer a discount program for Urea Cycle Disorder patients.  All you need to do is contact us at 1-800-538-4545 and supply us with your doctor's recommendation with dosing information.  Discounts are applied to Urea Cycle products only.  Urea Cycle Disorder discount orders may be placed via phone, fax,email or online (discount applied once you set up an online account).

Jo Mar sells 100% pure, GRAS Certified L-Citrulline in powder form and is supplied with a green US Standard 1 (one) teaspoon measuring spoon . The powder is water soluble and weighs approximately about 4.0 grams per level measuring teaspoon. Please be advised this product is not intended for intravenous use. L-Citrulline powder must be measured using a US standard measuring spoon - please see chart below for standard measurements.
L-Citrulline Powder Serving Size Measurements
US Standard Measuring Spoons
Level Spoon Size               Approx. Milligrams
1/8 teaspoon (.625cc)     500mg (1/2 gram)
1/4 teaspoon (1.25cc)     1000mg (1 gram)
1/2 teaspoon (2.50cc)     2000mg (2 grams)
3/4 teaspoon (3.70cc)     3000mg (3 grams)
1 teaspoon (4.93cc)         4000mg (4 grams)
 The information stated here is not complete and should not be considered a recommendation. Please consult a qualified physician or nutritionist before beginning amino acid supplementation.
*The following information, as well as all statements and products on this website, have not been evaluated by the FDA and are not intended to diagnose, mitigate, treat, cure, or prevent any disease or health condition.