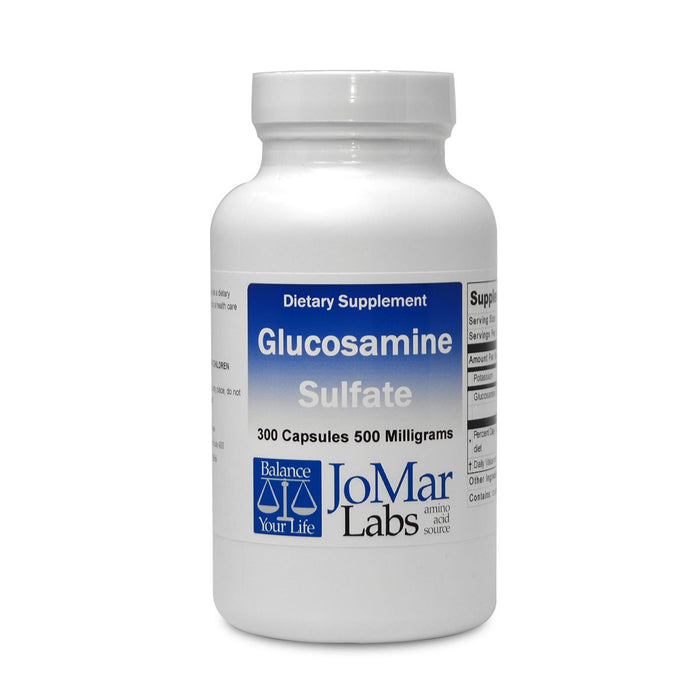 Glucosamine Sulfate
Save

Liquid error (snippets/product-badge line 32): Computation results in '-Infinity'

%
The amino sugar Glucosamine consists of glucose combined with the amino acid Glutamine. It is an important component of the mucopolysaccharides, which provide structure to bone, cartilage and other body tissues. Several studies have shown that besides stimulating the production of cartilage, glucosamine helps to reduce pain and improve joint function in those with osteoarthritis*. Glucosamine Sulfate is not stable in its pure base form and is always combined with either potassium or sodium salts.
Jo Mar sells D-Glucosamine Sulfate Potassium (C12 H26 N2 O10 H2 SO4 - 2KCl), which contains 12.5% potassium. Glucosamine is also commonly used together with Chondroitin Sulfate . The book " The Arthritis Cure" recommends taking between 1000 and 2000 milligrams of Glucosamine together with 800 to 1600 milligrams of Chondroitin Sulfate divided into three doses daily. Jo Mar's Glucosamine Sulfate is available in both powder and capsule form. The powder has a salty-citric taste and weighs about 3.2 grams per level measuring teaspoon.
The information stated here is not complete and should not be considered a recommendation. Please consult a qualified physician or nutritionist before beginning amino acid supplementation.
*References quoted in the book "The Arthritis Cure": Dovanti, A., Bignamini, A.A., and Rovati, A.L."Therapeutic Activity of Oral Glucosamine Sulphate in Osteoarthrosis: A Placebo Controlled Double Blind Investigation" Clinical Therapeutics 3(4):266-272, 1980. Pujalte, J.M., Llavore, E.P., and Ylescupidez, F.R. "Double Blind Clinical Evaluation of Oral Glucosamine Sulfate in Basic Treatment of Osteoarthritis" Current Medical Research and Opinion 7(2):110-114, 1980
*The following information, as well as all statements and products on this website, have not been evaluated by the FDA and are not intended to diagnose, mitigate, treat, cure, or prevent any disease or health condition.