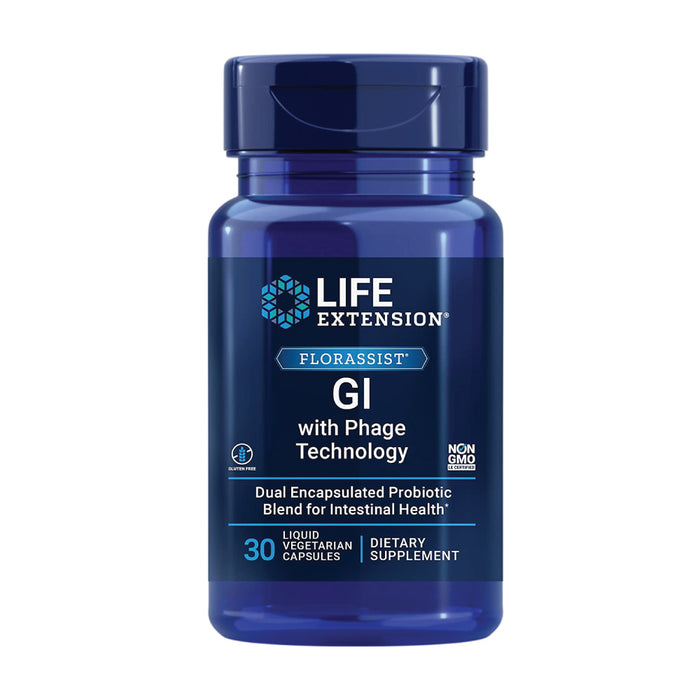 FLORASSIST® GI Probiotic with Phage Technology (LifeExtension)
Save

Liquid error (snippets/product-badge line 32): Computation results in '-Infinity'

%
What Is FLORASSIST GI Probiotic with Phage Technology?
Our probiotic blend promotes healthy digestion, helps maintain a healthy microbiome balance in the intestines, encourages proper nutrient absorption and more. It is scientifically shown to positively interact with the TetraPhage blend which targets unwanted intestinal bacteria, leaving the bacteria you need alone. Now, you can get both of these digestive health ingredients in our Best in Class probiotic formula.
FLORASSIST® GI tilts the healthy bacteria ratio in your favor with potent probiotics and focused bacteriophages.
FLORASSIST® GI with Phage Technology Benefits
Targets unwanted bacteria with a novel bacteriophage blend
Helps maintain optimal digestion & nutrient uptake
Provides a new blend of seven different probiotic strains with 15 billion colony forming units
Dual-encapsulated to reach lower intestines intact
Represents our best probiotic formula for digestive health
Healthy Digestive Advantage
Bacteria are the most prominent and numerous members of the community of microorganisms in our digestive systems. But the bacteria we want are under siege from dietary and environmental influences, as well as other factors. Fortunately, promoting healthy bacteria in our digestive tract can have a positive impact on overall health and well-being. FLORASSIST® GI was formulated to do just that.
FLORASSIST® GI with Phage Technology
Why Should I Supplement With FLORASSIST® GI with Phage Technology?
"Studies show that probiotics help balance the ratio of good to bad bacteria in your intestine. The better the balance, the better your digestive health. Life Extension's FLORASSIST® GI and FLORASSIST® Balance support your digestive health and provide a broad spectrum of whole-body benefits. The FLORASSIST® family provides strains of probiotics for optimal potency.
"FLORASSIST® has been scientifically researched and independently tested to provide you with the best results. The dual encapsulation delivery system is uniquely designed to safely bypass the harsh environment of your stomach and deliver the potent formulation to your intestines, where your body needs it most.
"Our more advanced formula, FLORASSIST® GI, has a TetraPhage blend that targets specific strains of unwanted bacteria in your system—making room for good bacteria to help restore digestive balance."
Dr. Michael A. Smith, MD: Director of Education and Spokesperson for Life Extension.
Product Details
FLORASSIST® GI with Phage Technology is our Best in Class probiotic formula. It promotes digestive health, proper nutrient absorption, and a healthy balance of bacteria in your intestines. It does this with two important blends: a TetraPhage blend of innovative bacteriophages, and our new proprietary probiotic blend.
These statements have not been evaluated by the Food and Drug Administration.
These products are not intended to diagnose, treat, cure, or prevent any disease.
Supplement Facts
Serving Size 1 liquid vegetarian capsule

Amount Per Serving

Proprietary Probiotic Blend

50 mg

B. breve Bbr8; L. plantarum 14D; B. animalis ssp. lactis BLC1; L. paracasei IMC 502; L. rhamnosus IMC 501; L. acidophilus LA1; B. longum ssp. longum SP54 (15 Billion CFU†)

TetraPhage Blend

15 mg

LH01 - Myoviridae; LL5 - Siphoviridae; T4D - Myoviridae; LL12 - Myoviridae

Other ingredients: glycerin, vegetable cellulose (capsule), stearic acid, vegetable stearate, maltodextrin, silica, corn starch, purified water.
Non-GMO
†Colony Forming Units at time of manufacture.
Dosage and Use
Take one (1) capsule daily, or as recommended by a healthcare practitioner.
Warnings
KEEP OUT OF REACH OF CHILDREN
DO NOT EXCEED RECOMMENDED DOSE
Do not purchase if outer seal is broken or damaged.
When using nutritional supplements, please consult with your physician if you are undergoing treatment for a medical condition or if you are pregnant or lactating.