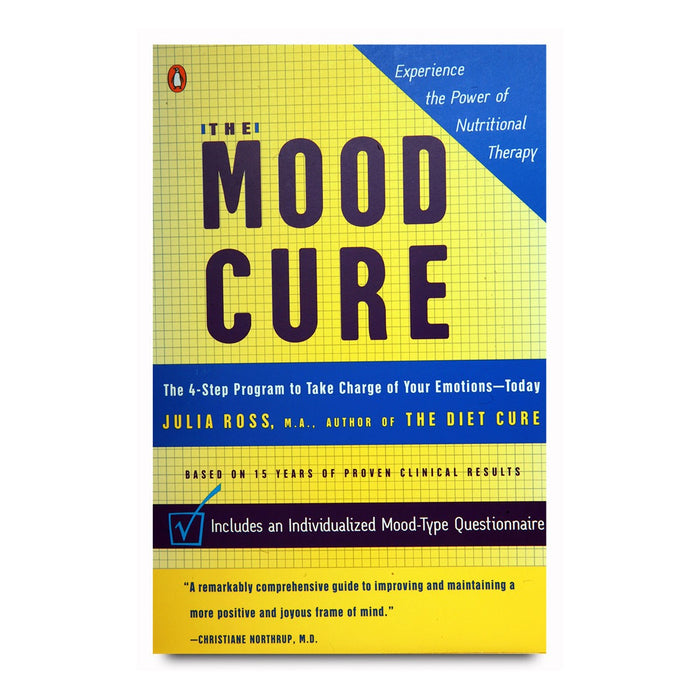 Experience the Power of Nutritional Therapy
The 4-Step Program to Take Charge of Your Emotions - Today
We're in a bad mood epidemic, but Julia Ross shows you how to rediscover your emotional well-being naturally
Drawing on thirty years of experience as a psychotherapist, clinic director, and pioneer in the field of nutritional psychology, Julia Ross presents breakthrough solutions to many of the negative emotional states that are diminishing the quality of our lives.  Her comprehensive, safe, and natural program is based on the use of four mood-building amino acids and other surprisingly effective nutritional supplements, plus a diet rich in good-mood foods such as protein, healthy fat, and key vegetables.  Beginning with an individualized Mood-Type Questionnaire, Ross's plan will help you to:
Overcome depression, anxiety, irritability, stress, apathy, oversensitivity, emotional eating, and more
Learn to distinguish between true and false moods
Eliminate the four most common mood imbalances
Create a nutritherapy master plan using targeted supplements and good-mood menus and recipes
Discover clinically effective nutritional alternatives to antidepressant drugs
This exciting plan can show results in just twenty-four hours.  Get started today and feel better tomorrow!
ABOUT THE AUTHORS
Julia Ross, M.A., author of the bestselling The Diet Cure is a pioneer in the field of nutritional psychology.  She has directed counseling programs in the San Francisco Bay Area since 1980.  She is the Founder and Executive Director of Recovery Systems, a holistic clinic that has helped thousands of people with mood problems, eating disorders, and addictions by combining counseling with nutrient therapy and biochemical rebalancing.  An instructor at several San Francisco Bay Area universities, Ross is a popular lecturer whose work has been featured on national radio and television and in publications such as Psychology Today, Natural Health, and the San Francisco Examiner Magazine.  She lives and works in Marin County, California.
PRODUCT DETAILS
Paperback: 400 pages
Written By: Julia Ross, M.A..
Publisher: Penguin Books
Copyright: 2002 by Julia Ross
Language: English
ISBN-10: 0142003640
ISBN-13: 978-0142003640
Product Dimensions: 5.3 x 0.9 x 8 inches
Shipping Weight: 1 pound