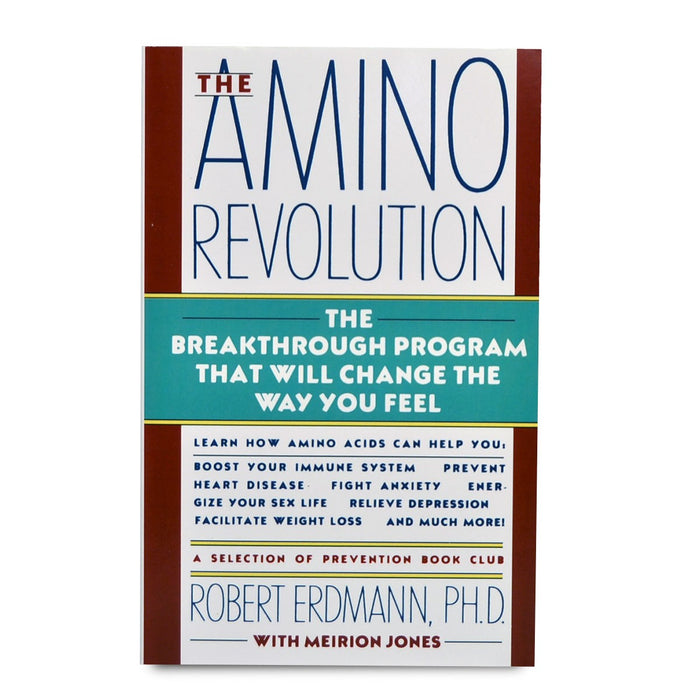 Your Guide to the Best-Stocked Drugstore of All – The Human Body
How to use amino acids to achieve optimum health and fight cancer, Alzheimer's disease, depression, heart disease, and more.
Your Personal "Miracle Drugs"
The two dozen amino acids present in the human body are now being shown to be among the most potent healing substances ever discovered.  These constituents of protein are necessary to every life process, but research and clinical work in the last two decades have revealed a vast range of therapeutic functions for amino acids, including:
Arginine's ability to improve sexual dysfunction
Phenylalanine's pain-releiving powers
Tyrosine's addiction-fighting potential and energizing action
Methionine's role in the treatment of Parkinson's disease and as an antidepressant
Tryptophan's promising use with hyperactivity
Cysteine's emergence as on of the body's best free-radical destroyers
This update and revision of the landmark book on amino acids covers the exciting discoveries of the last decade and shows you how to use them in your personal health-management program.
About the Authors
Eric R. Braverman, M.D., is an integrative physician and Director of the Place for Achieving Total Health (PATH Medical), located in New York City.  Dr. Braverman received is B.A. summa cum laude from Brandeis University and his M.D. with honors from New York University Medical School, after which he did his post graduate work in internal medicine with a Yale Medical School affiliate in Greenwich, Connecticut.  Dr. Braverman has published more than eighty research papers and is also coauthor of several books, including Zinc and Other Micronutrients (Keats Publishing, 1978), Male Sexual Fitness (McGraw-Hill/Contemporary Books, 1991), and Hypertension and Nutrition.  (McGraw-Hill/Contemporary Books, 1998).
The late Carl Pfeiffer, M.D., Ph.D., pioneered the biochemical basis of behavior and mental illness.  He founded the Brain Bio Center in Princeton, New Jersey, in 1973, where he achieved unprecedented success in treating a wide range of mental problems, including schizophrenia, depression, anxiety, and phobia, with diet and nutritional supplements.  He is the author of the groundbreaking books Mental and Elemental Nutrients: A Physicians Guide to Nutrition and Health Care (Keats Publishing, 1975) and Nutrition and Mental Illness (Inner Traditions, 1987). Dr. Pfeiffer also served as chief pharmacologist at Emory University and was director of the New Jersey Neuropsychiatric Clinic.
Kenneth Blum, Ph.D., is world renowned for his work on the role of neurotransmitters in compulsive/addictive behaviors and genetics.  The receipient of nearly a dozen patents for treating addictive behavior, he is currently a professor of pharmacology at the University of San Antonio, Texas and the president and CEO of Nutrigenomics, Inc. He has written more than 300 scientific articles and has published in the Journal of American Medical Association.  He is the coauthor of several books, including Folk Medicine and Herbal Healing (Thomas, Charles C. Publisher, 1981), Alcohol and the Addictive Brain: New Hope for Alcoholics (Free Press, 1991), and Overload: Attention Deficit Disorder and the Addictive Brain (Andrews McMeel Publishing, 1996). Dr. Blum's work has been featured in major newspapers and on television stations worldwide.
Richard Smayda, D.O., is the Director of Primary Care Medicine at Cape Cod Hospital, in Brewster, Massachusetts.  He assisted in the writing of this book and has published extensively on taurine metabolism, his area of expertise.
PRODUCT DETAILS
Paperback: 434 pages
Written By: Eric R. Braverman, M.D.
Publisher: Basic Health Publications, Inc.; 3rd ed. edition (April 2, 2012)
Copyright: 1987, 1997, 2003 by Dr. Eric R. Braverman, M.D.
Language: English
ISBN-10: 1591200377
ISBN-13: 978-1591200376
Product Dimensions: 6.1 x 0.9 x 9 inches
Shipping Weight: 2 pounds